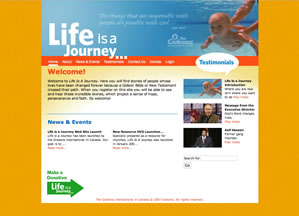 A national association website recently converted to the open source Joomla! CMS.
'Life Is A Journey' is a site owned and maintained by The Gideons International In . The site was converted from a proprietary CMS to the open source Joomla! CMS and launched last week.
'Life Is A Journey' was conceived about a year ago. The site contains video content from various speakers featured at banquets hosted by The Gideons International In Canada and The Gideons International. The site was created using a content management system developed by a company in western Canada. Shortly after the initial launch further development on the site was put on hold to investigate the viability of using an open source product instead.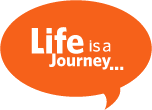 The decision was made to redo the site using Joomla!. The Gideons International In Canada, who own the site, are a charitable non-profit association with a small workforce and limited financial resources. They were managing and administering several different website systems which is unwieldy from an internal operations standpoint. It's not reasonable for a small staff to administer several different systems. By the end of the year all their public sites will be relaunched using Joomla! The staff who maintain these sites will be able to do a far better job by concentrating and developing their skill sets to suit one open source system.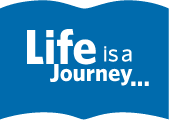 The original 'Life Is A Journey' site had a limited core functionality compared to Joomla! Right from the base install Joomla! is more feature rich. The proprietary CMS would have required a larger investment to develop similar functionality. The overall cost of development using open source products like Joomla! will be significantly less in the long run than what one would spend on a proprietary product.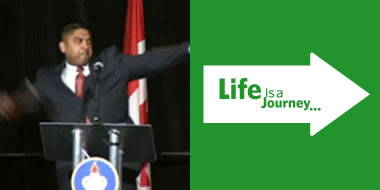 Additional components and extensions to enhance Joomla! are plentiful. Many of them are free and some require a nominal investment to achieve high level functionality. For the most part financial investment in the site can be mainly applied to the graphics and content creation. This is a huge benefit for a charitable organization.
Joomla! has a large community of support including professional designers and developers to draw from. The staff from The Gideons International In Canada are being encouraged to get involved and participate in this community in order to give back what they can to a community that gives them so much.
The Gideons International In Canada is an association of Christian business professional men and their wives. Their national headquarters in Canada is located in Guelph, Ontario. They are part of an international association currently organized in 182 countries with over 260,000 volunteers. 'Life Is A Journey' is a part of the Canadian church relations program.