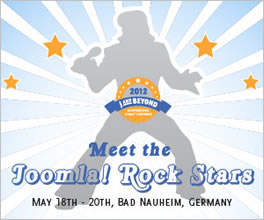 Coming up in May I will be presenting a session at J and Beyond 2012 (JAB2012). The session will be called "Secrets of Getting an A+ Joomla! Reputation and Attracting A+ Clients".
J and Beyond is an annual International Joomla! Conference now in its third year. This year Joomla! developers and site builders from over 30 countries will gather in Bad Nauheim, Germany, near Frankfurt, right in the heart of Europe.
As usual there is an impressive line up of speakers at this years event. J and Beyond is where your hear the latest and greatest about all things Joomla.
J and Beyond is where you meet the Joomla! rockstars
JAB is the place to meet many of the people you hear and read about who are involved in one way or another with the world's best website building platform.
This is the "Mars Hill" of Joomla. All the giants of Joomla! gather at JAB to share ideas, network, inform and brainstorm the future of Joomla.
Elvis was here
The venue for JAB2012 is the Dolce Bad Nauheim Hotel and Conference Center. Elvis Presley lived in Bad Nauheim during his time with the United States Army in Friedberg. He even sang a song called "Bad Nauheim Medley" which appears on two CDs; "Forever in Love" 1997 and "Elvis in Deutschland" 2008.
How did JoeJoomla wind up here?
Being a speaker at a JAB session came about rather suddenly. This past February while visiting with Dianne Henning and Alice Grevet of Open Source Matters I was strongly encouraged to attend JAB2012. Dianne said it's the place to be and meet the who's who of Joomla. She convinced me about the importance of the event so with a little more encouragement from my wife, known as MrsJoe, I bought my ticket and booked a hotel.
Initially it never occurred to me to submit a proposal
Shortly thereafter I received an email from Brian Teeman suggesting I should present a proposal to do a session during the event. It never occurred to me to be a presenter at JAB. I thought it was exciting enough just to be going for the first time. So I put together a proposal and to my delight it was accepted!
So what are the secrets of getting an A+ Joomla reputation and attracting A+ clients?
So what are the secrets? If I told you it wouldn't be a secret anymore. You'll just have to come to my session at JAB2012 or wait until it's over and posted online.
Make sure you connect with JoeJoomla at JAB2012!
If you are going to be at JAB2012 make sure you connect with me. I'm looking forward to seeing you there!