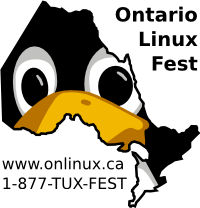 Joomla! will have a presence at the Ontario Linux Fest Conference on October 12 & 13, 2007. Yours truly (JoeJoomla) along with Jason Kendall, and Alan Langford will be there to share all things Joomla! with the Toronto crowd.
It starts Friday night and runs all day Saturday with conferences, presentations, and exhibitions. The Fest will be at the Toronto Congress Centre, 650 Dixon Road, Etobicoke, Ontario Canada. Joomla! will have a booth. Come and get your pictures taken with your Joomla! friends.
Registration to attend this event is $40. The Student discount is $20. You can register online at www.onlinux.ca. We're planning to have a good time and want to meet as many Joomla! users as possible. If you are near Toronto plan to be there!