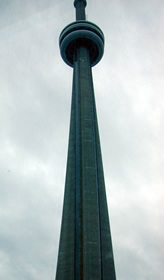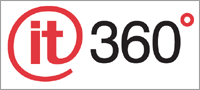 Tuesday, May 1, 2007 was Toronto Joomla! Day at the IT360° Conference & Expo 2007 event at the Metro Toronto Convention Centre located among a cluster of some of Toronto's well known landmarks; the CN Tower, Rogers Center, and Roy Thomson Hall.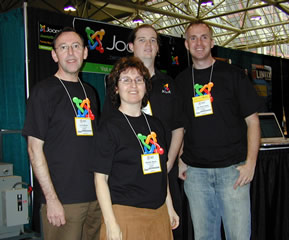 This is a first for Toronto and there were some official Joomla! core team members there to greet the visitors and answer questions on the trade show floor about the Joomla! CMS. Manning the booth were Lévis Bisson - Joomla! Shop Team Leader, Michelle Bisson - Marketing and Media Team Member, Jason Kendall - Developer Work Group Member, and Ian MacLennan - Developer Documentation Team Member.
After a full day on the trade show floor the Joomla! members had a meeting room where a modest crowd came to hear and see all about Joomla! 1.5 beta as well as the current 1.0.12 version. Jason was up first and talked about Joomla! and answered a variety of wide ranging questions. Of course several people in the audience inquired about a possible stable release date for Joomla! 1.5 and they were instructed to keep an eye on the official information from joomla.org by Jason.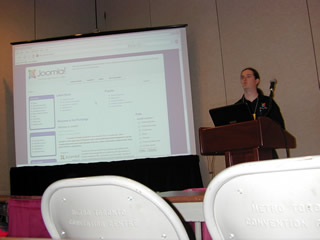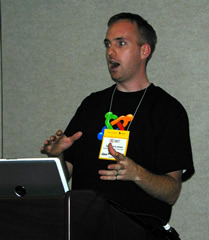 Ian MacLennan gave a short demonstration on Joomla! 1.5. He showed the installation process, then how to set up some sections with categories, make a few menu items, and finally publish articles.
Afterwards Michelle and Levis help answer questions relating to everything from how Joomla! got its name, to what can we expect for the future of Joomla! The people at the demonstration were encouraged to consider starting a Joomla! user group for Toronto and hopefully organize a Joomla! Day for Toronto next year.
Oh yeah, I was also able to buy an official Joomla! t-shirt there. Have you got yours yet?