Page 2 of 10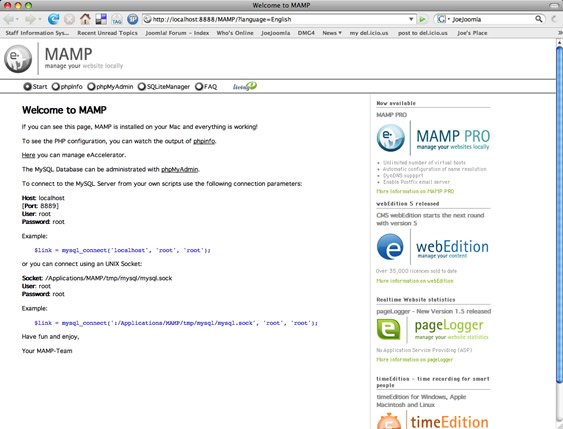 Now you are ready to install Joomla! 1.5. You can start MAMP, the application is inside the MAMP folder. It's simply called 'MAMP'. When MAMP starts up it should launch your web browser, if it isn't already running, and take you to a start up page with a URL of http://localhost:8888/MAMP/?language=English.
Before you navigate to the
Joomla!
web installation page you are going to need an MySQL database for
Joomla!
. This can be created using
phpMyAdmin
which is included with your
MAMP
install. You can get to
phpMyAdmin
from the startup page in
MAMP
. Get to the startup page either by clicking the button 'Open start page' on the
MAMP
startup interface screen or open by typing the following URL in your web browser:
http://localhost:8888/MAMP